Accenture, Deloitte, EY, KPMG and PwC spend reaches $3.8 billion
Labor plans to lift the staffing cap and add more than 1000 new permanent jobs at Services Australia, Veterans' Affairs and the National Disability Insurance Scheme (NDIS). The plan also involves a promise to convert casual and labour hire jobs into permanent employment in government.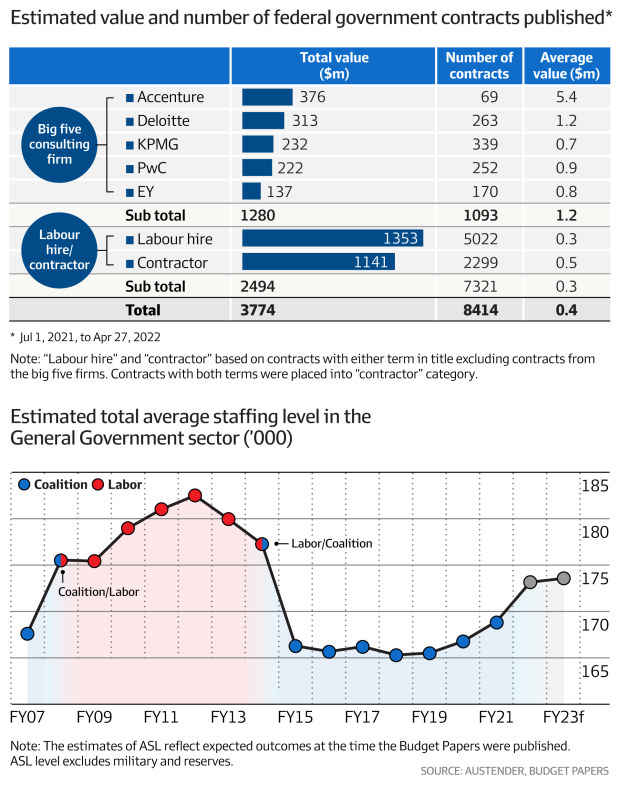 "The Morrison government's obsession with spending taxpayers' money to outsource public service jobs and work is costing an eye-watering amount of money at a time when the budget simply cannot afford it," a spokesman for Ms Gallagher said.
"These latest figures from AusTender show that Labor's Policy is essential to bring down cost and re-invest in the [Australian Public Service]. With a trillion dollars of debt, we cannot risk another three years of this wasteful approach to spending under Scott Morrison."
Labor said it could not comment on what the future size of the public sector workforce would be because it first needed to review the existing workforce, as well as the use of consultants, contractors and labour hire before making any decisions.
"Labor will make a first phase of reinvestment to the public service to deal with immediate need in frontline agencies like the NDIA and Services Australia, but we will make further decisions on staffing from government after looking at where the need exists," said.
But a Coalition campaign spokesman said Labor's commitments would cost $4.5 billion over the forward estimates, based on the 2 per cent average annual growth in the public service headcount under the Rudd and Gillard governments.
Expanded public service
The Coalition questioned how Labor could save $3 billion from reducing outsourcing, consulting and labour hire, noting moves to bring temporary and casual workers onto permanent public service jobs would limit the savings through new wages.
Former Australian Public Service Commission boss Andrew Podger said Labor's plans could help restore specialist expertise into the public service.
Average staffing levels have been tightly controlled under the Coalition, cut from 177,258 in 2013-14 to an average of 166,762 by the end of the period when then-senator Mathias Cormann was finance minister. The most recent budget put the average staffing level at 173,558.
Representatives of EY, KPMG and PwC said they were proud of the work they carried out for the federal government and argued they were only called in when specialist skills were required. Accenture and Deloitte declined to comment.
EY's government leader, Catherine Friday, said the firm was "most often called on for our specialist knowledge and the skills … as governments seek to address increasingly complex issues".
"EY takes a collaborative approach to our work with the public service, transferring knowledge and helping build capability that lasts long beyond the impact of a single project or deliverable," she said.
Specialist skills
KPMG senior lead Paul Low said the firm supported "the development and upskilling of the Australian Public Service and the removal of caps on staff".
"With the pace and scale of change facing the Australian community, the public sector often calls on specialist skills and capabilities from the private sector to complement the resources within the public service in delivering complex, time-challenged projects," he said.
A PwC spokeswoman said the firm was "proud of the work we do to help Australia's government sector and public services". Accenture, BCG, Deloitte and McKinsey all declined to comment.
There is no central data source for the use of labour hire and contracting in the federal bureaucracy. The Financial Review estimated the value and number of these contracts by using the search terms "labour hire" or "contractor" across non-big five contracts published since July.
"Labour hire" refers to when an agency outsources the recruitment process to a third party which hires and pays the staff member while they perform work for an agency.
The contract data shows Accenture's Tax Office work includes a $62 million contract to modernise Australia's business registers system.
The firm also won five contracts with Home Affairs, worth more than $60 million, to design and build the "permissions" system, a platform which aims to digitise the way citizens and visitors to Australia access government services, including permits, accreditations, licences and registrations. This includes the firm's work on the digital passenger declaration function.
Deloitte's work includes five separate defence contracts worth more than $38 million for project management services.
KPMG's work includes six defence contracts worth more than $24 million for information, communications and technology-related services.
PwC's contracts include 20 contracts with health worth almost $27 million, for services including "COVID-19 vaccination program management support", a "pilot costing study [about] residential aged care" and labour hire to the department of PwC staff.
EY's contracts include two defence contracts worth almost $29 million for change management services, and another two contracts worth more than $5 million with the ACCC for labour hire of EY staff to the agency.
Separately, strategy firms McKinsey and Boston Consulting Group won an additional 45 contracts worth more than $66 million. McKinsey and BCG declined to comment.
link